Recommended by Natalie Marie Collins (Topanga Enterprises, LLC) as the 2019 software of choice!
All you need to do is
show up at the right time.
Acuity Scheduling is your online assistant,
working 24/7 to fill your schedule.
Take 2 minutes. Try it Now
It's easy & user-friendly. No credit card or commitments. We promise you'll love it!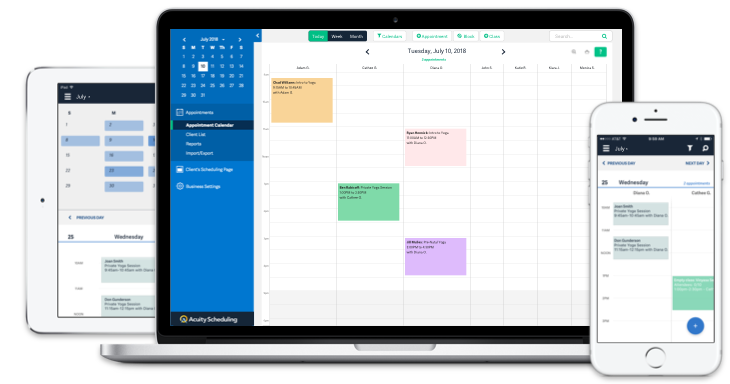 Business before Acuity has a lot of HAVE TOs.
But business after Acuity?Well, that's the WANT TO way of working.
Never ask "what time works for you?" again.
Clients can quickly view your real-time availability and self-book their own appointments—and even pay online, reschedule with a click, and eliminate 100% of the drudgery. (Official term.)
Take 2 Minutes, Try It Now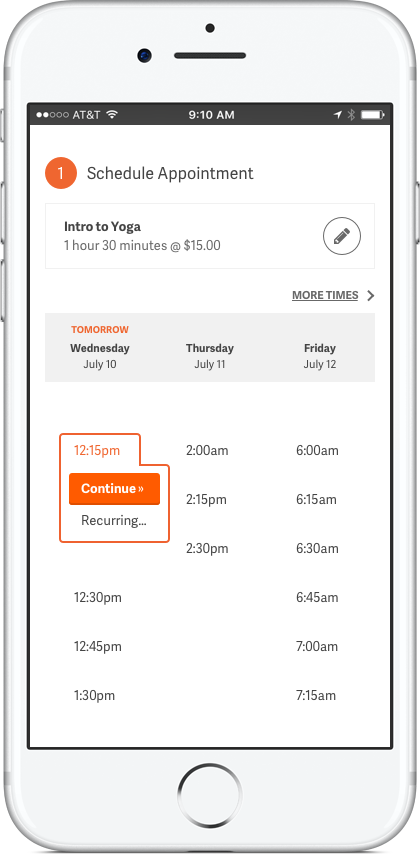 Acuity Adapts to Any Business
(And Looks Dang Good Along the Way)
Get a taste of the seamless experience your clients can count on with these five (fictional) websites that run on Acuity.
Monthly TemplateNew vs. ReturningPackagesPayments
Daily TemplateGift CertificatesSubscriptionsAdd-onsIntake FormsMultiple Staff
ClassesPrivate SessionsClass PacksSubscriptions
Daily TemplateIn-Person InterviewsRemote Video ConferencingFile Uploads
Multiple Time Zones
Class SeriesWorkshopsPayments
Simplicity, Meet Power.



Organize your schedule
Auto adjust for time zones, let clients easily cancel & reschedule themselves, and automatically send reminders to keep clients prompt.

Control your availability 24/7
Manage multiple locations and employees, only show your clients the calendar you want them to see, plus all the flexibility to make scheduling work for you.

Collect everything you need to know about a client as soon as they book.
Ask clients to fill out intake forms when scheduling, and have all of their information neat & tidy in one place.
Freedom to grow your business.
"When I first started I had new clients come to me not because of my experience, but because I was the easiest to schedule with."
— Kim, Peace and Healing for Women
Gain an instant
professional edge.
No matter what size your business.
Automatically send branded & customized confirmations, reminders & follow-ups—via email or text message—and even accept payment and tips via Stripe, Square, PayPal, Braintree & Authorize.net with the click of a button. After all, you're sophisticated like that nowadays.
Take 2 Minutes, Try It Now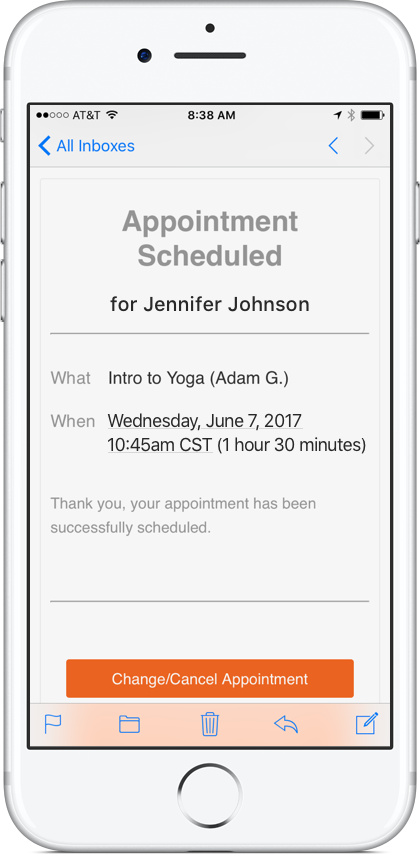 Friends in High Places
We're a full-service suite, but you can still integrate with your favorite tools, too!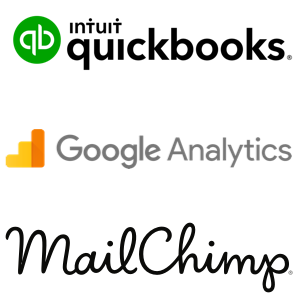 Ironclad
calendar coordination.
Never let another client fall through the cracks, miss a beat, or lose a booking.
Get notified anytime a new appointment is booked, check your schedule right from your phone, and even tell Acuity to automatically update the calendars you already use, like Google, Outlook, iCloud or Office 365.
Take 2 Minutes, Try It Now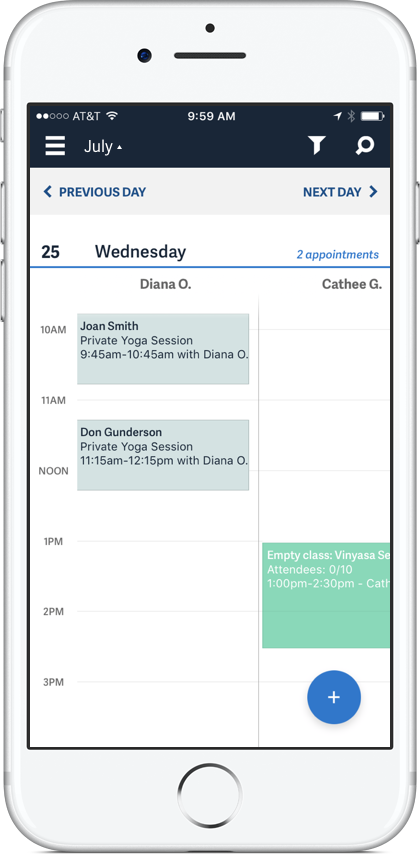 Acuity Scheduling isn't just a scheduling tool—it's a full-blown, beautiful, incredibly user-friendly system for running your business end-to-end
Easily share
your calendar via Facebook, Twitter, Google+ or email
Customize everything
to match the existing look & feel of your business
Feel confident
knowing client information is private, as part of HIPAA
Embed your calendar
right on your website for a seamless booking experience
Sell gift certificates & subscriptions
set up packages, memberships, and even give group classes
See a snapshot of your revenue
paid & unpaid appointments, and a list of any no-shows
User Love + Happiness





"I researched about 20 options before choosing Acuity, and I'm so so glad I went with you."
Beatrice, Beatrice Blanc Studios
"I'm hooked! My clients love it too, and absolutely NO no-shows since using Acuity."
Briana, Sublime Canines
"You guys have THE BEST functionality in scheduling."
Lesley Parker
"I don't have to have awkward conversations requesting to get paid."
Natalia, Sweet and Sacred
"The 2-way sync, timezone conversion, multiple appointment booking, multiple calendars/users, customization settings, and billing integration (to name a few) are all amazing features of this product that others simply lack. The superhuman support they provide continues to prove a happy and unexpected bonus."
Jared Matthew Weiss, Overture
Real people. Real awesome.
Got a question? Have a problem? Want to exchange cat GIFs while we help you take over the world? (Or, at least, your calendar.) We proudly support over 50,000 businesses from our Big Apple lovin' offices in New York City and around the world—and whatever you need, we're here to help. Because good customers deserve good experiences. Here, knowing your name is only the beginning.